Pergolas Manufacturers in Delhi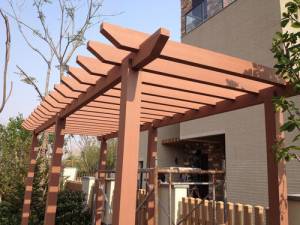 Enquire Now
At Go for Green LLP, our meticulously crafted pergolas are thoughtfully designed to seamlessly harmonize with the idyllic ambiance of your garden. Our aim is to strike a perfect equilibrium between the innate allure of nature and the modern essence of our innovative designs. We are one of the leading Pergolas Manufacturers in Delhi. At our esteemed establishment, we hold a profound appreciation for the paramount importance of superior quality and unwavering durability. It is with utmost pride that we present our meticulously crafted garden wooden pergolas, meticulously fashioned using the most exceptional building techniques and materials of unparalleled excellence. Rest assured, our discerning craftsmen exclusively employ wood of the utmost distinction, ensuring the highest possible grade for your esteemed satisfaction.
Wooden Pergola Suppliers in India
Our pergolas are designed to withstand the elements and require minimal maintenance, ensuring that their aesthetic appeal and functional capacity are maintained throughout time. Our wooden pergolas are a wonderful addition to any collection of outdoor furniture, and they are available in a variety of sizes. We provide a choice for enjoying the great outdoors that is both fashionable and practical, and it is produced from high-quality materials. We are one of the most reliable Wooden Pergola Suppliers in India. We have an advantage over the other companies since we possess certain distinctive traits. Pergolas made of wood from our company are exceptionally adaptable, sturdy, and of the best possible quality, and their cost is among the lowest in the industry.