Which Fabric Should I Choose to Cover Outdoor Furniture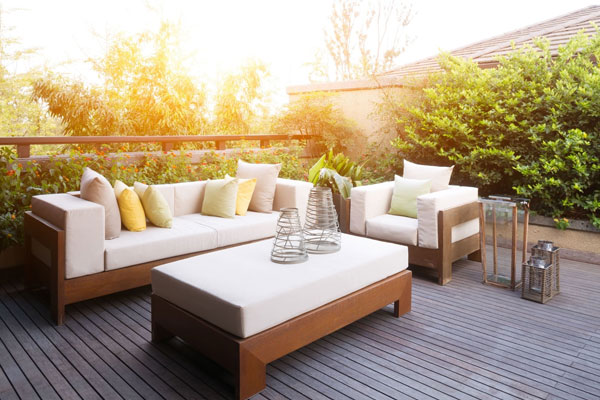 Decorating your outdoor space with some beautiful garden furniture can truly transform the look and functionality of your home. A well equipped decking or patio area is a great space for an outdoor party during the summer, a barbeque, a garden party and much, much more. The need for great garden furniture is not all there is to creating a great outdoor space however.
In addition to choosing the right tables, chairs, benches and parasols, finding the right outdoor furniture covers is also very important. Making the right selection here will result in some stylish decor that will not only look great but will hopefully last you for many years.
There are many different types of fabric for outdoor furniture covers on the market, but your choice of material will have a huge impact on the durability of these items. It is therefore highly recommended to take into consideration the following factors if you are to find some covers that suit your needs and will last you a long time.
First of all, you will need to think about what weather conditions your covers will be out in. If you are in warmer climes that experience little rain, you do not need to worry so much about waterlogging or mould in your fabric, whereas these are serious considerations to make if you do live in an area that gets a lot of rain.
One of the better materials for water resistance is a synthetic blend, such as a cotton and polyester fabric. This will repel water and dry fast, which means that it is a much better choice if your outdoor furniture stands to be caught occasionally in a sudden downpour. With that said, there are also some downsides to choosing this kind of fabric.
The major one is that synthetics can become brittle through prolonged use and constant wetting and drying. This does not rule out the fabric as a good choice for your outdoor furniture covers, but just means you should take care to remove covers when possible when not in use, although this can be said to be true of all fabrics in order to ensure their longevity.
It also worth considering the thickness of the fabric that you choose for your outdoor furniture covers. This is because the thicker the weave - even in the case of polyester blends - the longer it will last. Although these types of fabrics are traditionally known for being stiff and uncomfortable, there are several suppliers offering soft polyester fabrics now with the same high level of durability.
For those in warmer climates, there is more choice of material available to you that is also durable and will not risk becoming waterlogged during rain or sudden downpours. A popular material is canvas, which is tough and resistant and comes in a huge range of designs. Although not suited to wet climates this is great for sunny parts of the world.
It is important to note, however, that fabrics that will be left out in the sun should be fade resistant, especially if they feature bright colours and designs that you want to last for a long time. Cotton canvas is generally very fade resistant, especially if pre-dyed and not printed.
With that said, polyester and other synthetic fabrics can also be fade resistant, depending on the printing or dying methods used and the quality of the fabric. For more details on this, it is important to check with your manufacturer how long you can expect images and designs to last for before the sun fades them, and then check on this information by seeking out former clients of the brand.
By following these tips, you can find the right fabric for outdoor furniture covers that will offer a blend of durability and style in all types of weather, regardless of whether you live in a sunny part of the world or a rainy one.