Artificial Grass Animals Manufacturers in Delhi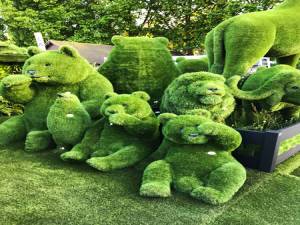 Enquire Now
At Go For Green LLP, we bring a touch of nature to your surroundings with our meticulously crafted Artificial Grass Animals. As Artificial Grass Animals Manufacturers in Delhi, we are dedicated to infusing creativity and artistry into outdoor and indoor spaces through our lifelike grass animal sculptures. Our commitment to craftsmanship and attention to detail is evident in every artificial grass animal we create. Each piece is designed to seamlessly integrate into various decor styles, making them versatile additions to residential and commercial spaces alike. With our artificial grass animals, you have the opportunity to infuse a touch of nature's beauty into your surroundings without compromising on durability or aesthetics.
Artificial Grass Animals Suppliers in India
Our collection features a diverse range of artificial grass animals, from majestic lions to playful rabbits, all meticulously handcrafted to resemble their real counterparts. These charming sculptures are not only visually appealing but also serve as conversation starters, sparking intrigue and delight among visitors. Serving as Artificial Grass Animals Suppliers in India, we understand the allure of having unique and eye-catching decor that adds a whimsical element to any environment. Whether displayed on lawns, patios, or indoor spaces, our artificial grass animals bring a touch of the outdoors into your surroundings, enhancing the overall ambience. We can create custom pieces that are tailored to your specifications, ensuring that you receive a product that perfectly suits your needs.